A selection of Cunard designs & artwork by MAB-CREATIONS – Approved by the Cunard Brand Team.
CUNARD «NEW CLASSIC» POSTER
COLLECTION (view)
B2 (500 x 700 mm) / A3 (297 x 420 mm)
A reinterpretation of classic Cunard posters from the 1920s and 1930s for the present fleet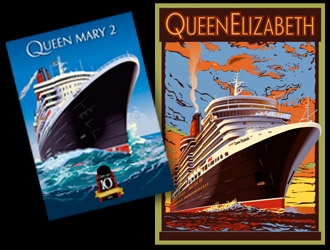 CUNARD NOTEBOOKS AND NOTEPADS
A6 and A5
THE CUNARD LOG BOOK (view)
96 pages, 154 x 215 mm, hardback
The exclusive logbook and travel journal for CUNARD guests.
QUEEN MARY 2, QUEEN VICTORIA, QUEEN ELIZABETH • Exclusive CMYK offset prints on 150g half-matt paper + UV protective coat. Size: 840 x 340 mm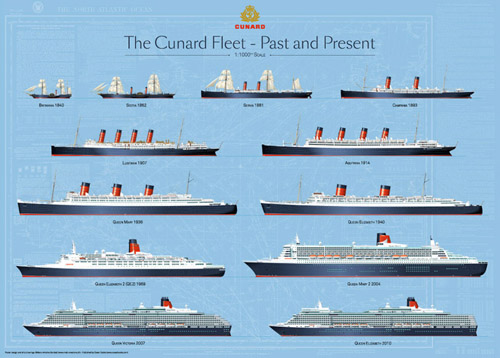 THE CUNARD FLEET – PAST AND PRESENT (1:1000th scale)
500 x 700 mm poster
Highly detailed 1:1000th scale profile drawings of 12 of the most famous Cunarders over the company's 175 years of existence.
QUEEN ELIZABETH – QUEEN MARY 2 – QUEEN VICTORIA
SOUTHAMPTON & LIVERPOOL, MAY 2015
A2 (594 x 420 mm)
Queen Elizabeth, Queen Mary 2 and Queen Victoria
in Southampton and Liverpool, May 2015
THE CUNARD BIRTHDAY BOOK (view)
104 pages, 110 x 153 mm, hardback
Includes 365 Cunard anniversaries, as well as a fine selection of images illustrating the company's vintage posters and most famous liners.
CUNARD BAGGAGE LABELS COLLECTION (view)
A reinterpretation of classic Cunard luggage stickers
for the present fleet
QUEEN MARY 2 10th ANNIVERSARY POSTER
240 x 480 mm
2014: Celebrating 10 years of excellence