A selection of products designed by MAB-CREATIONS for the on-board bookshops of CUNARD ocean liners
« Truly, the gem of any shop on any ship anywhere has to be QM2's Book Shop, which is located adjacent to the ship's beautiful Library. The main attraction is tomes focusing on maritime history (this ship and those that came before) and elaborate coffee table books (…) The vast ship memorabilia selection includes many other QM2 books, postcards, posters, writing pads, etc. »
Teijo Niemela, editor of Cruise Business Review
QUEEN MARY 2, QUEEN VICTORIA, QUEEN ELIZABETH • Exclusive CMYK offset prints on 150g half-matt paper + UV protective coat. Size: 840 x 340 mm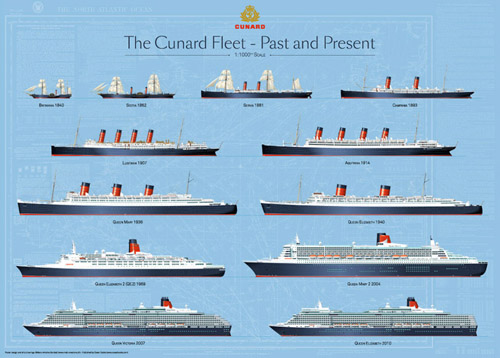 THE CUNARD FLEET – PAST AND PRESENT (1:1000th scale)
500 x 700 mm poster
Highly detailed 1:1000th scale profile drawings of 12 of the most famous Cunarders over the company's 175 years of existence.
QUEEN ELIZABETH – QUEEN MARY 2 – QUEEN VICTORIA
SOUTHAMPTON & LIVERPOOL, MAY 2015
A2 (594 x 420 mm)
Queen Elizabeth, Queen Mary 2 and Queen Victoria
in Southampton and Liverpool, May 2015
THE CUNARD BIRTHDAY BOOK (view)
104 pages, 110 x 153 mm, hardback
Includes 365 Cunard anniversaries, as well as a fine selection of images illustrating the company's vintage posters and most famous liners.
THE CUNARD LOG BOOK (view)
96 pages, 154 x 215 mm, hardback
The exclusive logbook for CUNARD guests.
NEW & REVISED 2012 EDITION
QUEEN MARY 2 10th ANNIVERSARY POSTER
240 x 480 mm
2014: Celebrating 10 years of excellence
CUNARD «NEW CLASSIC» POSTER
COLLECTION (view)
B2 (500 x 700 mm) / A3 (297 x 420 mm)
A reinterpretation of classic Cunard posters from the 1920s and 1930s for the present fleet
CUNARD BAGGAGE LABELS COLLECTION (view)
A reinterpretation of classic Cunard luggage stickers
for the present fleet
CUNARD QUEENS – PAST AND PRESENT (view)
A2 (420 x 594 mm) poster
The exclusive Cunard poster displaying the company's 6 Queens, from QUEEN MARY of 1936 to the new QUEEN ELIZABETH of 2010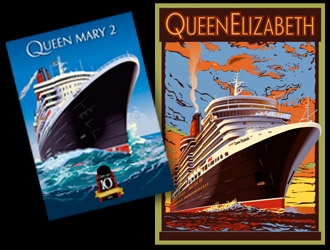 CUNARD NOTEBOOKS AND NOTEPADS
A6 and A5
CUNARD POCKET SPIRAL NOTEBOOKS
85 x 110 mm notebooks
CUNARD QUEENS PUZZLE (view)
Wentworth Wooden Puzzle
Jigsaw
All products conceived, designed and produced by Marc-Antoine Bombail.
Available for purchase on CUNARD ocean liners, or from OCEAN BOOKS, 15 Basepoint Business Centre, Romsey, Hampshire SO51 9AQ, Great Britain (Phone: +44 (0)1794 830 663).