Marc-Antoine Bombail & Michael Gallagher
Foreword by William H. Miller
CUNARD – THE FLEET BOOK
(Ferry Publications, GB, 2017).
96 pages, 24.5 x 22 cm, hardback.
A complete and detailed list of all the Cunard ships that have served with the company since 1840. Each vessel is classified in chronological order of entry into Cunard service, and has a brief description, history, while the majority of them are accompanied by a photograph, or one of Marc-Antoine Bombail's specially drawn profiles. The book includes a brief history of Cunard and many fascinating reproductions of posters, brochure covers and various ephemera reflecting the company's rich heritage from over 175 years.
See CUNARD products designed and produced by MAB-CREATIONS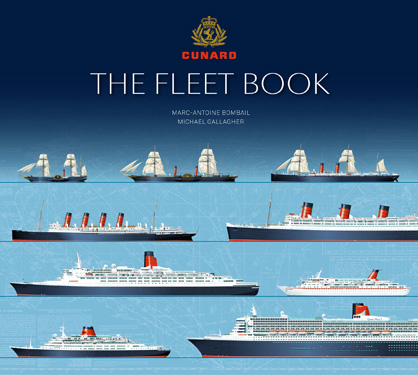 Marc-Antoine Bombail is a Swiss-born graphic designer and illustrator with a passion for sea travel and ocean liners, especially Cunarders. He has authored, designed and produced books about the QE2 and, as a regular supplier of the Cunard onboard bookshops since the early 2000s, he has been creating exclusive items and memorabilia such as the 'Cunard Log Book', the 'Cunard Birthday Book', as well as posters, notebooks, jigsaws, postcards, baggage labels and many more. Marc-Antoine is also specialised in drawing detailed profiles of ships, such as those reproduced in this book.
Michael Gallagher comes from the North West of England, from a family in which many worked on Cunard ships, hence his passion and interest in Cunard inherited from early childhood. In 1994, at the age of 20, his first full-time job after leaving college was Public Relations Executive for Cunard – a role created for him. After a short break from the company he returned to the same role in 1998 and has remained at Cunard ever since. In 2011 he was appointed Public Relations Manager and Historian and became the first-ever Cunard historian in the company.
Published by Ferry Publications, Ramsey, Isle of Man (UK)
To order from Ferry Publications, click here.
To order from Amazon, click here
Also available for purchase on board QUEEN MARY 2, QUEEN VICTORIA and QUEEN ELIZABETH